What does it mean to have a chart-topper and who really are the big winners/losers in the great game of slot production and distribution? Kevin Dale gives a review of the movers and shakers…
From a brief look at game performance this month, it seems that the restructure and rebrand of old Microgaming assets is yielding positive results. Other than another fishy spinner-off from Pragmatic Play (Big Bass Splash), just two other releases made it into the top 20 – both outputs of the Games Global machine. Dragon's Cache from Spinplay Games popped up mid-month while its stablemate, Mask Of Amun, was there at month end.
Top 20 games by distribution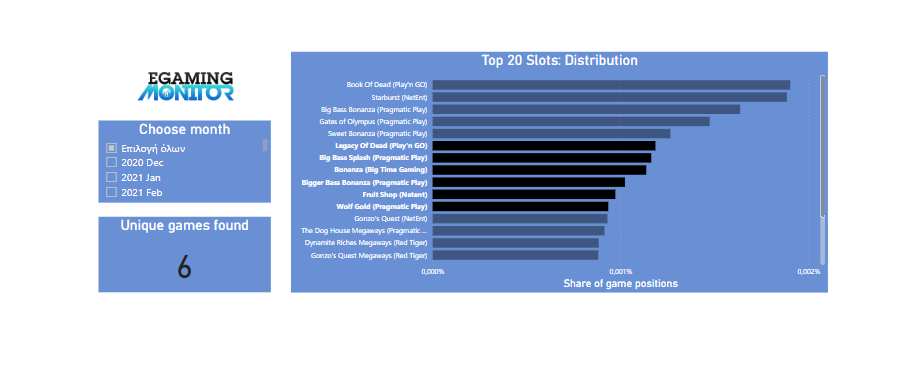 The freshly launched Games Global website introduces us to a couple of new studios: recent additions Circular Arrow in Canada and Infinity Dragon in the Far East are to be joined by Oros Gaming and Ino Games, whereabouts not yet revealed.
Their strategy has been relatively simple: take large stakes in new studios across the globe, provide them with development & marketing support and then crucially, give them access to a vast distribution network. This allows these 'independent' studios to focus on game quality, while the group ticks the quantity box too.
But how does this strategy actually fare versus competing make or buy strategies such as those of Evolution Gaming and Pragmatic Play?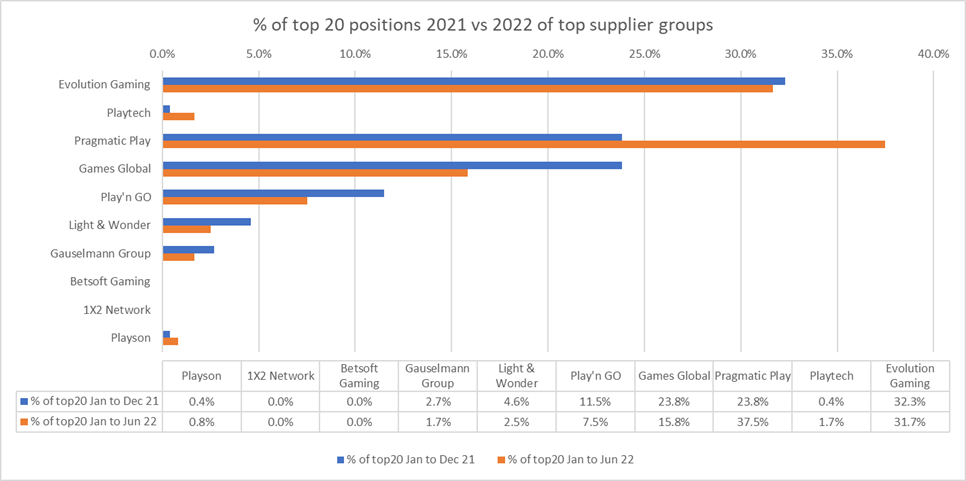 In brief, all three groups continue to dominate the charts yet Pragmatic Play have performed better over the last year – that is, if the objective is to secure a larger percentage of the top spots. Note that top positions as per our charts are based on the number of times a game is found across the universe of 2,000+ operator sites.